---
Home Yogurt Recipe - admin - 07-22-2022

Hi everyone,I want to tell you this time to prepare yogurt with pasteurized milk yogurt. You don't need to boil milk yogurt from raw milk as your milk is different. I used milk mis bakraclik of the brand. Shock products that are sold in markets. The ash of raw milkif you are to be your milk should boil the water for at least 20-25 min.



Yogurt Recipe Ingredients For Home
1 liter milk Mis Bakraclik

1 tablespoon yogurt

Home How To Make Yogurt Recipe?
Our milk milk we get our first pot and 45°C heat until it let up. Kitchen thermometer with temperature control you can do like you can do with your pinky finger. If you can keep your pinky at the fermentation temperature of milk in the milk means without busting 7 seconds.

Let's take our milk heated pot from the stove and load it into our brew.

Taking 1-2 tablespoons of milk to let our ilitmak yeast in a separate bowl. And mix quickly. It's important for our yogurt to be cut.

Finally, by adding Our milk let Maya.

Put a paper towel on it and close the lid. Beautifully wrap it in a cover.

Mayalandirdik by relaxing in the refrigerator for 4-5 hours at room temperature after 1 day you can consume. Bon Appetit.

Note: I'm making yogurt is pasteurized milk for milk for the use of kaynatmad. If you use raw milk, your milk should boil the water for at least 20-25 min. The brewing temperature has come to him after I gave the recipe with you in the same way you can mayalayab yogurt.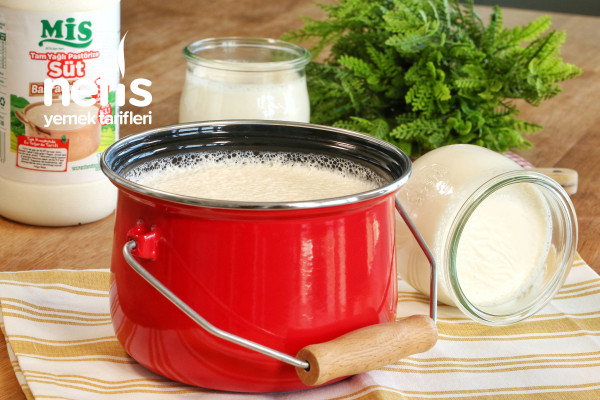 ---