---
Practical Recipe For Chicken Wings In The Oven - admin - 07-23-2022


Quote:Employees, those who work or live in their home for any reason, the happiness to those who go on a picnic barbecue chicken recipe I'm sharing with you today that tastes just like a wing. Sunday picnic while the weather warming up a beautiful day with the family who wouldn't want to evaluate? Rejoices with the smell from a grill like this on our picnic. Just the opportunity and those who go on a picnic like this recipe tastes just their home if you want an easy way to barbecue. Chicken wings marinated surround yourself by putting it in the oven your kitchen will make you feel at a picnic and the beautiful fragrance. Moreover, this is a recipe you want me to say he can do it now in summer and winter. Crispy baked chicken wings how? if you're wondering let's get it done
Practical Recipe Ingredients For Chicken Wings In The Oven
1.5 kg chicken wings

1 cup of olive oil

1/2 (half) teaspoon black pepper

1/2 (half) teaspoon of cumin

1 teaspoon oregano

1 teaspoon red chili powder

Salt

2 cloves garlic

1 cup water

How To Make Chicken Wings Recipe In The Oven Practical?
First wash the chicken wings I'm suzdureli the water nicely.

Sealed in a suitable container, olive oil, black pepper, cumin, oregano, red pepper, and crushed garlic in a good way of taking let it marinate.

By removing the fridge for 1-2 hours to rest our wings chicken marineledig you leave.

Grill chicken wings from the refrigerator and put it in the oven and then bring the oven.

By adding water to an oven tray and preheat the oven to 200°C in an oven for about 45 minutes to cook.

Cooked chicken you can serve any way you want by taking your wings. Enjoy your meal in advance.

Tips for chicken wings
One Marine is the process of making delicious chicken of the most important points. How long you marinate the chicken in a sealed container if lezzetlenece will get so much into the sauce. At the same time, in this way, the meat crispy outside and soft inside you will get.

Why we have to put a tray under the grill for dripping oil on her wings. However, when I put the empty tray will burn the fats dripping, and will create a bad smell. To avoid this, you must put 1 cup water in the tray at the bottom of the grid.

Your chicken wings in the oven with scalloped potatoes, mashed potatoes, salad, or any salad of your choice babagannus or appetizer recipe that you can make.

Calories in chicken wings in the oven
6 pieces chicken wings is equivalent to approximately 210 calories.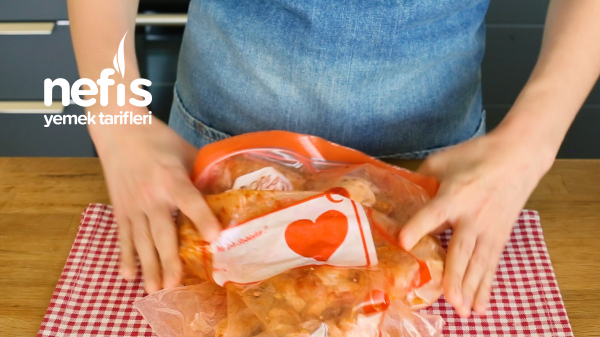 ---