---
Top Meatloaf Recipe With Potatoes In The Oven - admin - 07-23-2022



Top Ingredients For Meatloaf With Potatoes In The Oven Recipe
4 potatoes

2 tablespoons tomato paste

2 cups hot water

Onion 8-10 pieces

Salt

For dumplings;
Half kg beef mince

Paker meatball mix 1 Knorr

1 and half cup water

To fry;

How To Make Meatball Recipe In The Oven, Top With Potatoes?




1 package Knorr meatball mix half a kg of meat is added.

Added over 1.5 cup water are kneaded and nicely.

Meatballs the size of a large marble ball is rounded. I used the meatball mix is more practical and can be carried out quickly.

On the other hand, in the Cube The Cube by peeling the potatoes and stir.

The meatballs are then poured into the pan 1 cup oil until slightly before the potatoes are fried. You don't need to fully cook.

Place on lined oven fried dumplings and potatoes in a bowl.

Peeled shallots or small oven dish it is added to.

In a bowl, crushed in warm water, tomato paste, salt, and drizzle on the top level of the food dish and add hot water enough to come to. (When setting the amount of salt that you add the sauce cut the meat for dinner and consider it into the salt you add).

Add pepper and tomato slices at 200 degrees in oven and heated to soften the potatoes, and cook until the meatballs are cooked. Bon Appetit..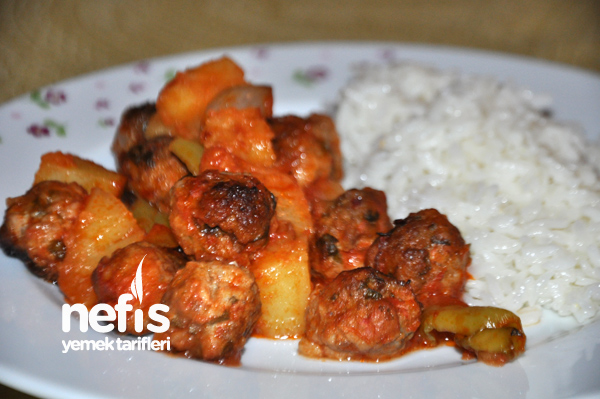 ---