---
Meat Loaf - admin - 07-23-2022



Ingredients For Meat Loaf Recipe
500gr low-fat beef mince

1 slice onion

1 egg

1 cup breadcrumbs (110ml)

1 half cup water

1.5 teaspoons cumin

1 teaspoon crushed red pepper

Delete 1 teaspoon black pepper

1.5 tsp of salt

For the sauce:
1,5 tablespoons tomato paste

2 cups hot water

Salt

For mashed potatoes;

5 large potatoes

1,5 tbsp butter

1 cup milk (125ml)

Salt, pepper

Meat Loaf Recipe How To Make?
Raw meat mince all ingredients and mixes like 6-7 min and transferred into a suitable container. Along knead.

This recipe knead is very important. Misses and ground beef with all ingredients should be a smooth consistency. In this way roast disperse.

Moisturising your hand and give a shape slightly roll the ground beef. Paper wrap and let rest in the refrigerator oven for 30 minutes.

After the resting period, take the wrapped meatloaf to the oven.

The oven to avoid burning of paper, moisten it slightly and bake for 30 minutes in a preheated 180 degree oven.

After the cooking time, remove the roast from the oven. Take time to rest for 15 minutes and remove it from the wax paper.

15 min at the end of the roast with a sharp knife, slice 1 finger left.

Search Pyrex a suitable directory. Hover over the flour and roast sauce.

Take to bake in the oven at 180 degrees again. Close and bake for 25 minutes with a tray on it for too much blush on.

Peel the potatoes and cut them in cubes for mashed potatoes in salted water and boil until tender. Drain the boiled potatoes and add the butter and stir.

On milk, add salt and pepper and achieve a smooth consistency.

Before serving, put the mashed potatoes on a plate and pour sauce over meatballs roast beef on it all.

Enjoy your meal in advance to those who will try.
Next, you can make rice or pasta, preferably.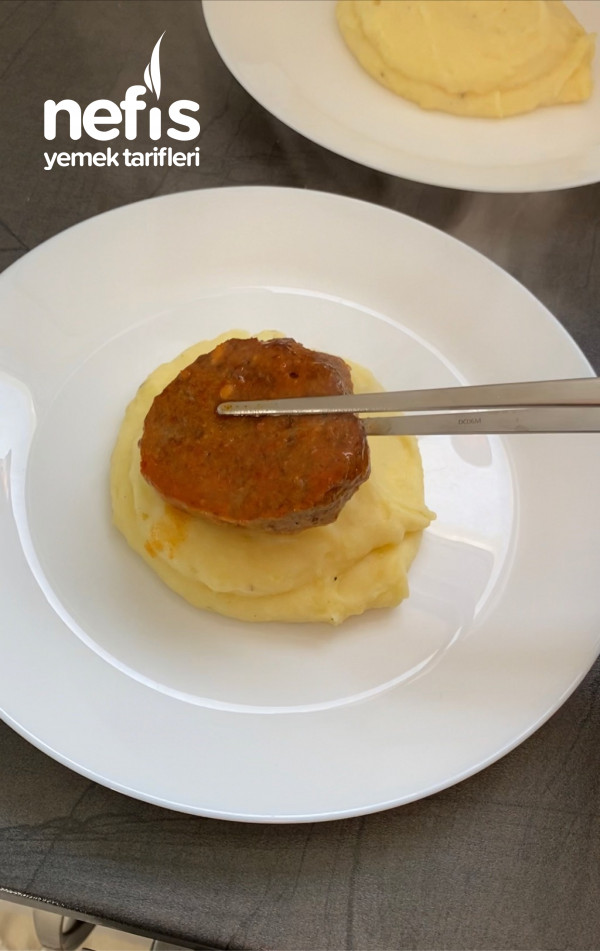 ---