---
Recipe Chicken Wrap - admin - 07-23-2022



Recipe Chicken Wrap Materials For The Video
Cut chicken breasts or chicken fillet wrap (will be more soft meat will be more than hip fat)

For finishing;
1 small onion

2-3 garlic cloves

1 teaspoon lemon juice

Half a cup of vegetable oil

Salt

Black pepper

For;
Garnish (I used canned)

Béchamel sauce (click for recipe)

Cheddar cheese

For the sauce;
1 cup hot water

1 tablespoon tomato paste

Chicken Wrap Recipe How To Video?
For finishing first onion, garlic, lemon, olive oil and spices and made into a sauce to Rondo is taken.

Chicken fillets with the sauce in the refrigerator prepared by applying a container with lid is removed. Rested for 3-4 hours.

Prepare the bechamel sauce before you begin the process of wrapping meat. You can follow the recipe by clicking on this link, 12-14 the sauce in this recipe if you are creating pieces of wrapping it may be too much by reducing the amount of materials you can use if you wish. I made the fritters increased with the sauce(click for recipe).

After preparing the béchamel sauce, let's move on to the winding process. Add chicken and sauce and a spoon on a plate to cool one as garnish.

Cut the chicken by putting it in the small overlapping both ends of cheddar cheese toothpick for not opening the drive.

Depending on the size of stuffing chicken, you can put more or less.

An oven dish aligned to let a drizzle of tomato sauce mixed with hot water.

190C-200C oven until golden brown the chicken is cooked.

If you wish, you can pour the remaining béchamel sauce on the chicken, before taking out of the oven sprinkle of grated cheddar cheese.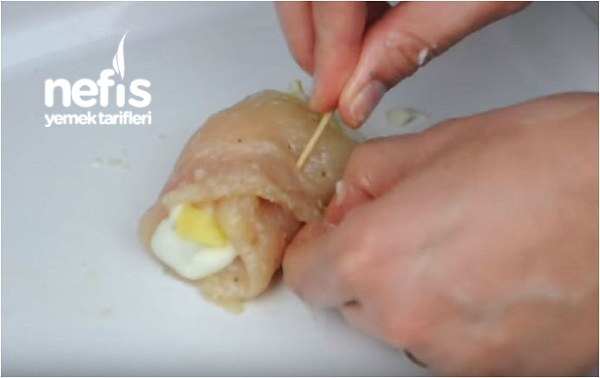 ---