---
How To Make Eggplant Bread Kebab? - admin - 07-22-2022


Quote:Ramadan Iftar bread kebab is one of my favorite foods. I made a very delicious recipe and Ramadan bread with ,I liked by everyone she is having guests for dinner.So I wanted to share my bread kebab recipe. While doing this is actually different recipes and make them ins remembered I will have a chance to share it with you. Enjoy your meal in advance than quite a hearty recipe to try
How To Make Eggplant Bread Kebab? (Video Recipe) Ingredients For
300 g minced

3 tablespoons vegetable oil

1 onion, finely chopped

1 green and red pepper

1 tomato

Salt, pepper, and ground red pepper

4-5 slices of bread

3 eggplants

Over
1-2 garlic cloves

1 cup yogurt

For the sauce;
1 tbsp butter

1 teaspoon crushed red pepper

How To Make Eggplant Bread Kebab? (Video Recipe)
Let's fry the ground meat in a suitable pan for making bread kebab.

The liquid oil in the diced onion, small chopped green and red pepper, add meat and continue until cooked.

By adding diced tomatoes and cook until they absorb water.

Finally, salt, pepper and chilli powder and mix them well.

Let's take a slice of bread and baked and cut into 4-5 service container.

We also let her get settled on the fried eggplant cubes, and chop.

We prepared minced eggplant and let it spread mortar on our Pyrex.

Finally, pour the yogurt with garlic, butter and we pissed off add pepper and serve. Bon Appetit.

Bread kebab recipe

is a fantastic suggestion for your stale bread and pita to assess. Bread kebab recipes to try out one of your recipe and I would recommend adding your book. Possible to prepare a hearty main meal with small amounts of meat and stuff really, and it's quite easy and it's delicious.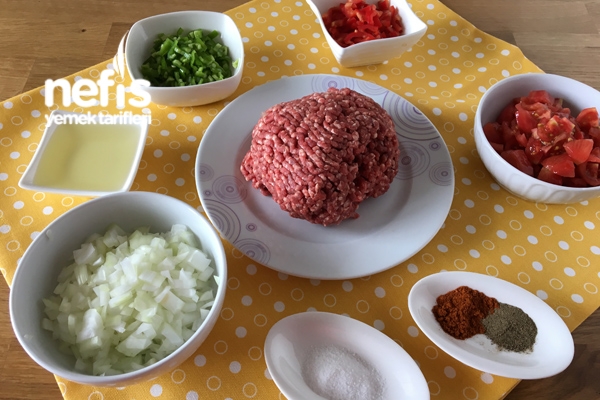 ---