---
Meat And Dried Beans - admin - 07-22-2022



Ingredients For Meat And Dried Beans Recipe
1.5 cups dry beans

1 small onion, grated

1 tablespoon tomato paste

1 tablespoon red pepper paste

300 g beef, cubed

4-5 tablespoons vegetable oil

1 teaspoon salt

1 teaspoon crushed red pepper

1 liter hot water

How To Make Dried Meat And Beans Recipe?
They are laid dry beans overnight in warm water, and wetted it.

Edible oil chopped onion saute the onion in the pressure cooker you put in.

Add the diced meat and saute lightly. At this stage, the meat will release juice.

After the addition of tomato paste and all spices, is added to the beans that we are the water looks.

Close the lid of pressure cooker and add enough hot water.

Simmer after boiling taken 30-40dk is cooked. Bon Appetit.

Note: depending on your type of beans if your food if the water is not viscous, delete a tablespoon of flour, one cup, it should be diluted with water, mixed and added to the cooked dinner. After boiling a few minutes, you can get it from the stove. Thus, your food will be darker juice.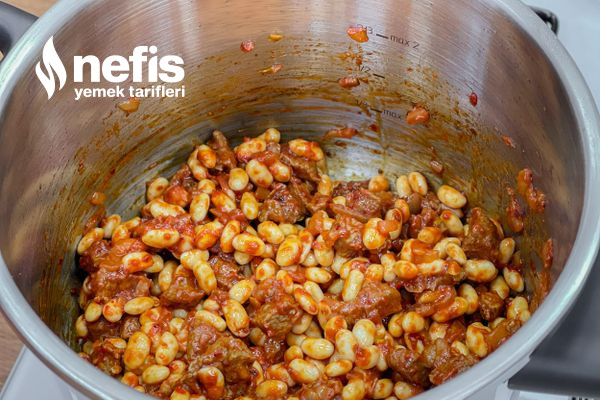 ---