---
Potato Lasagna - admin - 07-22-2022



Potato Lasagna Recipe Ingredients For
1 chicken breast

1 big onion

1 tablespoon tomato paste

1 teaspoon red pepper paste

50 g butter

half a cup of vegetable oil

1 package of cream (200 ml)

100 g Cheddar cheese

2-3 garlic cloves

half a bunch of dill

half a bunch of parsley

black pepper

salt

thyme

4-5 large potatoes

Potato Lasagna Recipe How To Make?
Small little bits of meat in vegetable oil in a large pan and I'm soteleyel.

After leaving the water, add the garlic and chopped onion and a few minutes while stirring occasionally I'm a little kavurali.

The tomato puree, let into a bowl, add salt and spices, and pour over the meat and mix with a little water too. I'm kavurali a few more minutes.

Add chopped greens and mortar we cover and we have Gold.

Want to be oiled a deep tray or Pyrex.

Let grater potato chips and the tray against a floor-string (the slices should overlap slightly) to go with 2 tablespoons melted butter and let them get over.

Add a little salt slices diesel and again, I have to have cream but this time let him take over. And so it will be 4 times.

I'm yaydirali and evenly pour over the meat.

Pour half of the cheddar cheese and cream keep the potato slices with butter again 4 times by sorting, salting without forgetting.

Bake in a 200 degree oven. Check that the potato is cooked to eat with a fork (because we have checked the edges of the tray from the middle in the middle may be raw, cooked), when it is in the oven until golden brown and pour the remaining cheddar on hold. Bon Appetit.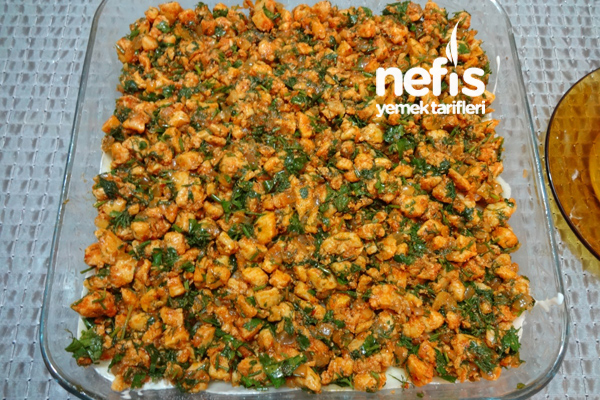 ---