---
Sultan Kebab With Chicken Recipe - admin - 07-22-2022


Quote:Your invitation to the dinner menu, I am sharing with you a delicious kebab recipe that will suit your main dishes. Sultan kebab recipe you must try, you cannot get enough of the taste of the chicken. Krepli sultan kebab eggplant kebab varieties there are a lot more like a sultan. I chose to make Sultan kebab with chicken. Our food and try to remember to add to your meals will be the star of your book. In advance than try to enjoy your meal.
Sultan Kebab Recipe Ingredients For Chicken
2 pieces of dough

400g chicken breast

400g chicken cutlets

1 small onion, grated

1 tablespoon tomato paste (you can use some ketchup)

1 cup boiled or canned peas

1 eggplant

Crushed red pepper

Thyme

Black pepper

Salt

For the bechamel sauce:
1,5 tablespoons flour

1.5 cups milk

2 tablespoons butter

Salt

On top:


Sultan Kebab Recipe, How To Make Chicken?




Eggplant colored strips with the oil and chop very small fry.

In the meantime, saute the chicken with oil filter filter the wait.

Bird chickens per chop, taking the pot and cook, stirring occasionally.

Cooking, releasing the color back in the water, add the chopped onion.

When onions are tender stir in the ketchup and sauce if you use the optional after.

Close the lid and 4-5 minutes. let cook until.

After taking the juice, stir in the peas and eggplant.

The spices by adding 3-4 min. cook for more.

They must have cooked the chickens no longer.

For the bechamel sauce, melt the butter and saute the smell of the flour.

Add the milk and whisk over with the help of the eye the eye of stir until it's thick so they will not be lumpy.

Finally add salt and remove from heat.

4 split the sheet into a small bowl to cool.

They tore pieces from the edges of the phyllo to the part with the hole more and more cool.

Putting the ingredients in a bowl-chicken bowl from the sides of the pastry overhanging on close.

Invert an oiled oven dish.

All the ingredients this way, after you make the béchamel sauce to pour in an equal amount on each.

The sheets in the oven at 190 degrees until light and fluffy.

Then crawl back into the oven and sprinkle grated cheddar cheese on top.

You can get in red and the cheeses melt.

Note: just chicken breasts with this, you can do it too, but the brisket was dry saute for while I'm mixing, I'm using or in this way or chops.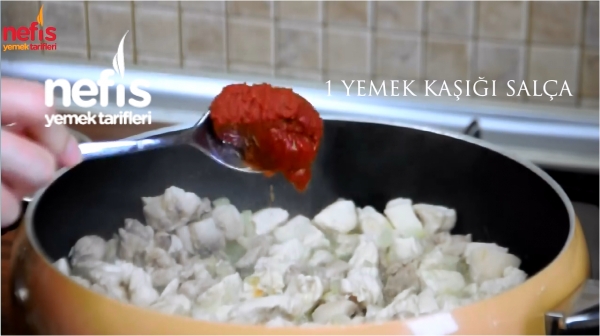 ---